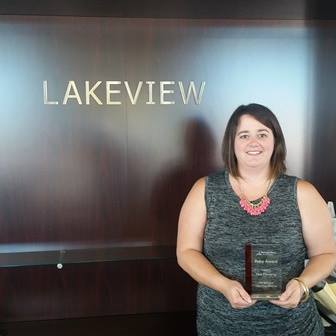 When Tara Pomeroy's father was in desperate need of blood in 2014, she began her journey of donating her time and resources to Michigan Blood.
"44 strangers gave blood to help save my father's life," says Tara. "It isn't about me - it's about them, giving back to those who so freely gave a life saving gift, and those who make this a better place to live."
Tara has continued her work in memory of her father by hosting blood drives at her workplace, Lakeview Ford in Battle Creek. She has been a huge advocate through her personal story for Michigan Blood while consistently hosting blood drives during high-need periods.
We congratulate Tara as she is a recipient of our highest honor – the Michigan Blood Ruby Award. The Ruby Award recognizes individuals or organizations that go above and beyond to help save lives through blood donation.
"I am so honored to receive this award," adds Tara.
Thank you, Tara, for your loyalty to our mission of saving lives through blood donation! You are making a difference.
Story fromMichigan Blood