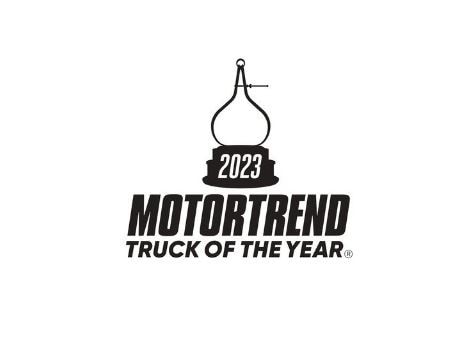 Another Big Award to Put in the Frunk
The 2023 F-150® Lightning® is the 2023 MotorTrend Truck of the Year®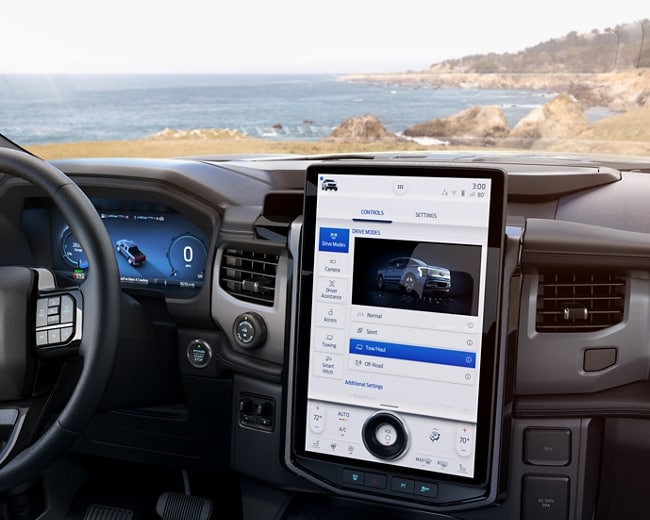 Smart Tech at Your Fingertips
The more you use the available SYNC® 4A, the more it gets to know your driving habits, common routes and more.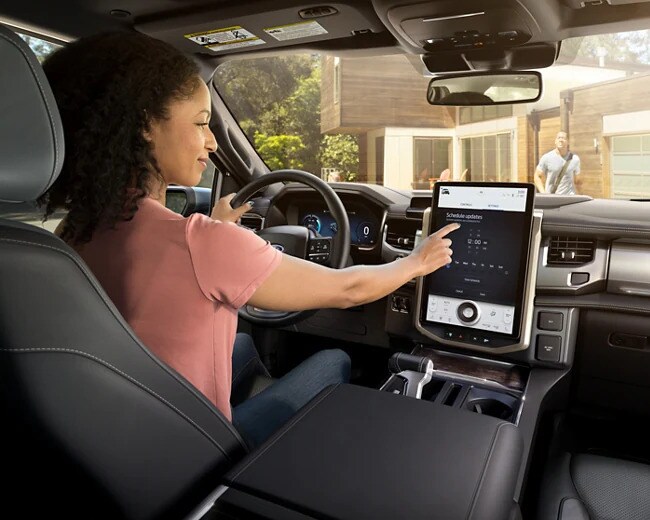 Easy Software Updates
Just like your phone, you can download Ford Power-Up software updates from anywhere there's a data connection.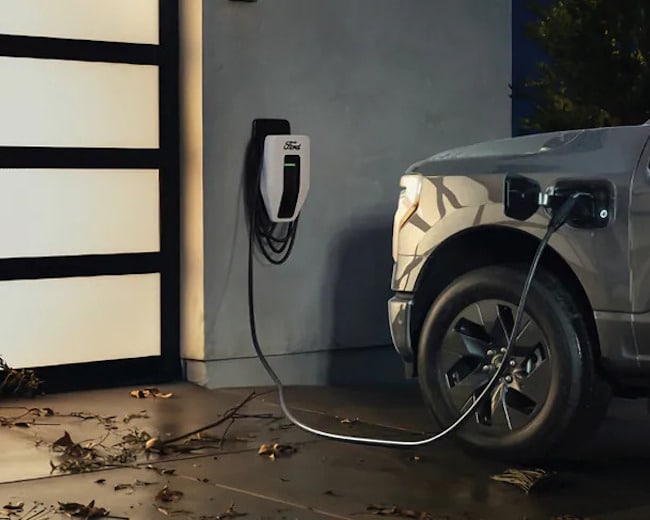 Intelligent Backup Power
With Intelligent Backup Power and Ford Charge Station Pro and an extended range battery - your F-150 Lightning can re-direct power to your properly equipped home for up to 3-days.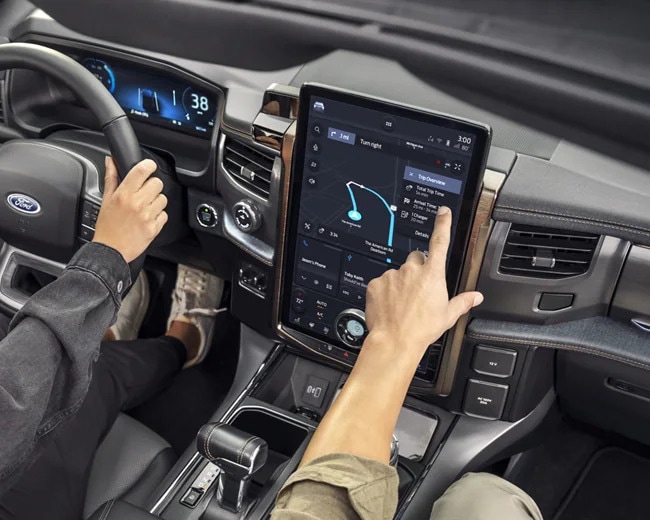 Power Your Trip
Plan routes, stops and track your charge right from your F-150 Lightning touchscreen with Ford Power My Trip.
ADVANCED TECHNOLOGY. POWERFUL PERFORMANCE.
Nearly instant torque. Seamless connectivity to software updates. A touchscreen larger than any currently offered on a full-size truck. This is an F-150® like you've never experienced.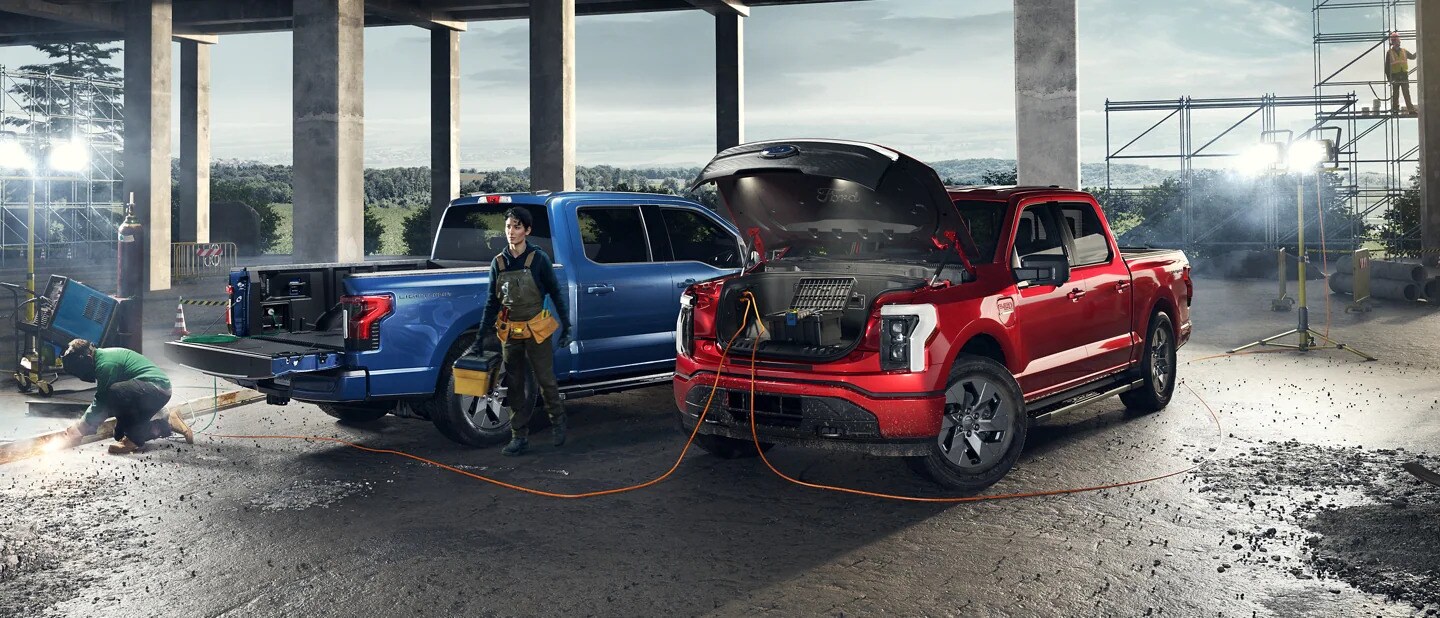 ENHANCED PRO POWER ONBOARD
Just plug 'em in and let 'er rip. From the jobsite to the campsite, this convenient feature provides on-site, on-demand power for tools, electronics, appliances and other electric devices. *
*See owner's manual for important operating instructions.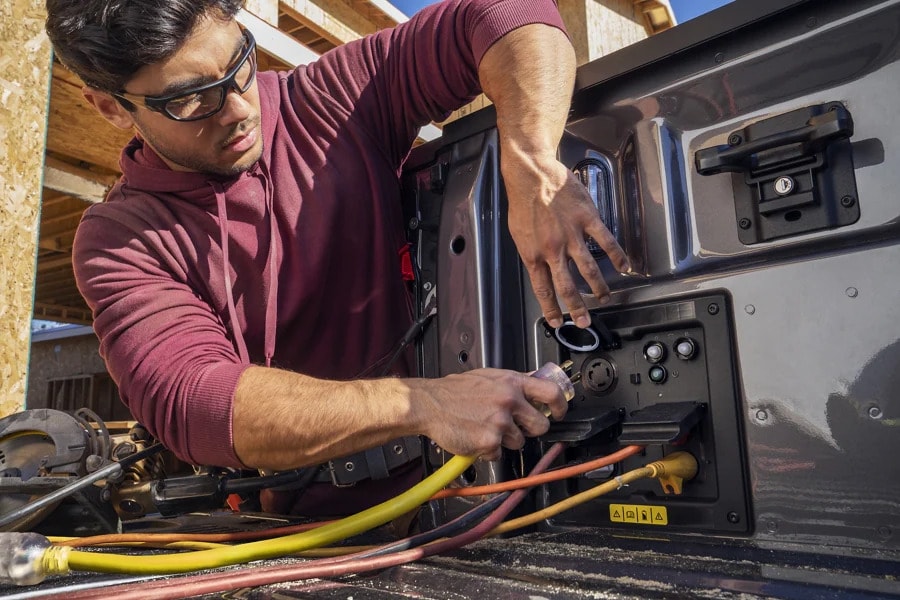 AVAILABLE 9.6 KW POWER
Be the talk of the tailgate. Pack along some conveniences camping. Plug-in a few power tools. With this much power your F-150® Lightning™ is up to the task.
*See owner's manual for important operating instructions.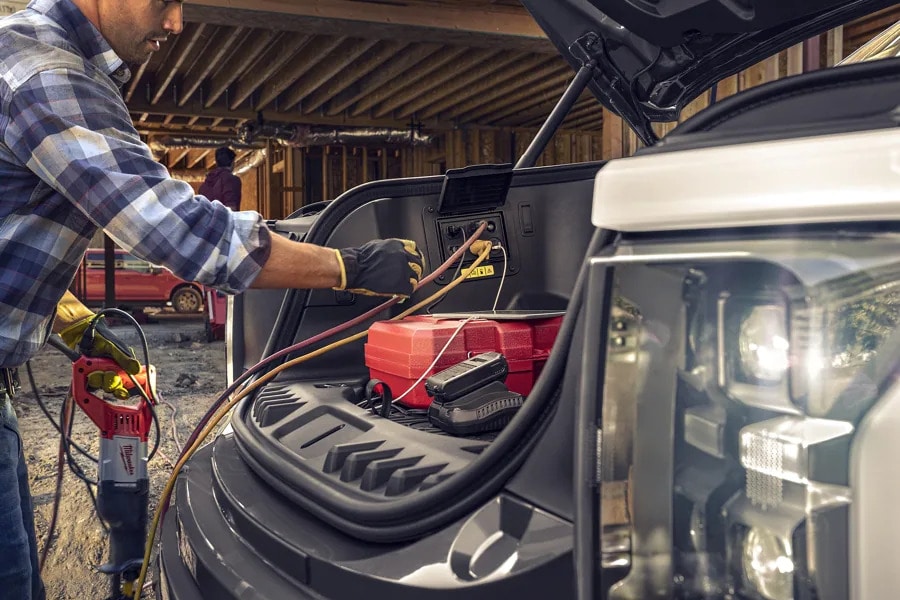 BUMPER-TO-BUMPER OF ADDED POWER
It offers 11 convenient power outlets. There are two 120 V outlets in the cab, four in the bed and four in the Mega Power Frunk, which also has a USB-C and USB-A. A 240 V outlet is available for the bed. *
*See owner's manual for important operating instructions.
WORKING FROM THE ROAD
Packed with intelligent features, F-150 Lightning® combines advanced digital technologies with proven engineering know-how to create a truck that's even smarter and more innovative.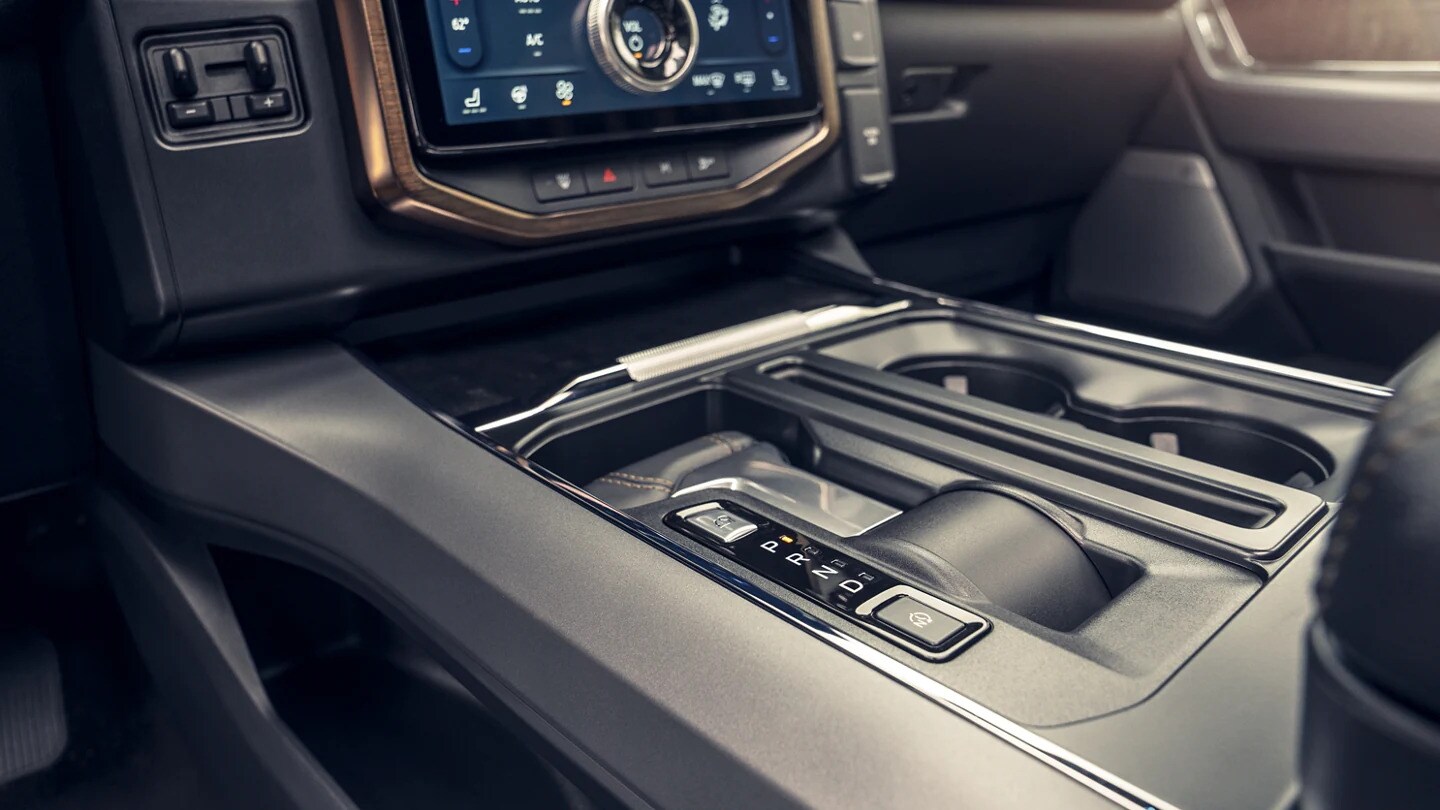 STOW-AWAY SHIFTER FOR INTERIOR WORK SURFACE
F-150 Lightning™ has tough in its bones. Strong and rigid, built with a fully-boxed frame and high-strength steel with large cross-sections.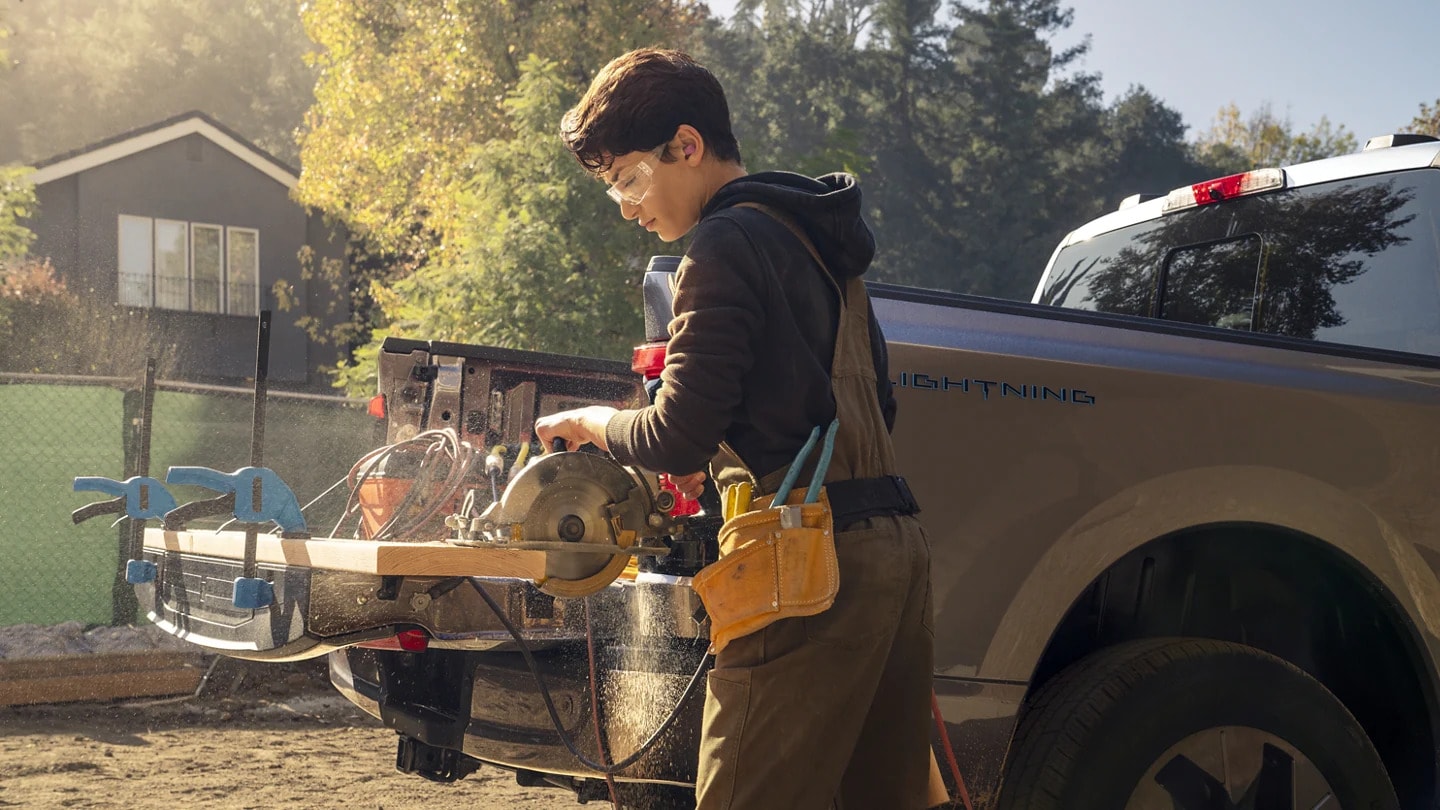 AVAILABLE TAILGATE WORK SURFACE
It's your workbench on wheels. The improved non-slip surface helps grip cargo. Two concealed clamp pockets allow you to clamp timber or tools to the tailgate. Embedded rulers, two tie-down/bottle openers and cup holders help to make work a whole lot easier.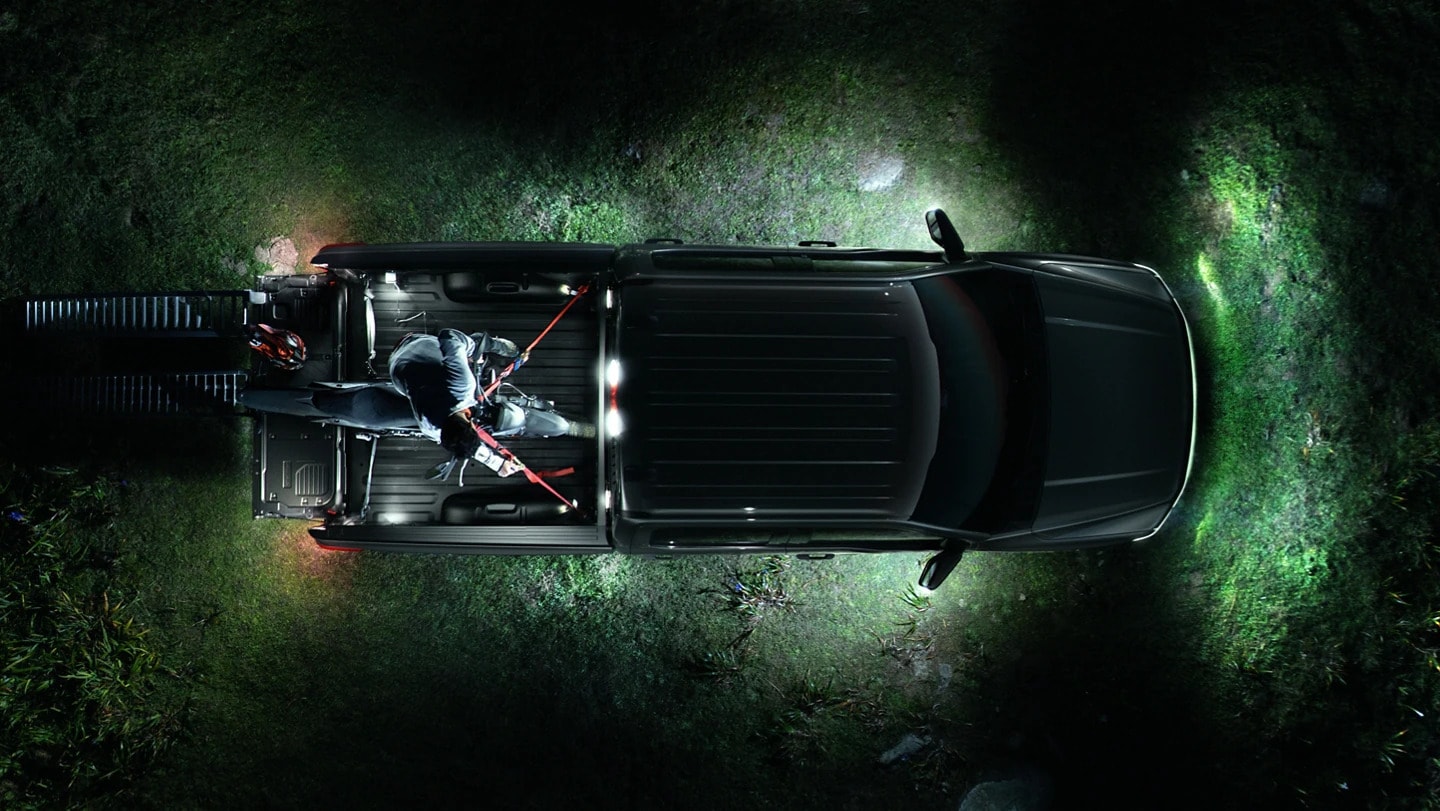 ZONE LIGHTING
Want to keep working or playing into the night? Zone Lighting illuminates 360 degrees around your truck. Choose them all or select a few. Use the integrated touchscreen or FordPass® App to control each zone remotely.
UNCOMPROMISED INSIDE
Robust standard and optional features. Abundant next-generation tech. An extensive range of options. No doubt about it, there's a lot to love inside the 2022 F-150® Lightning.™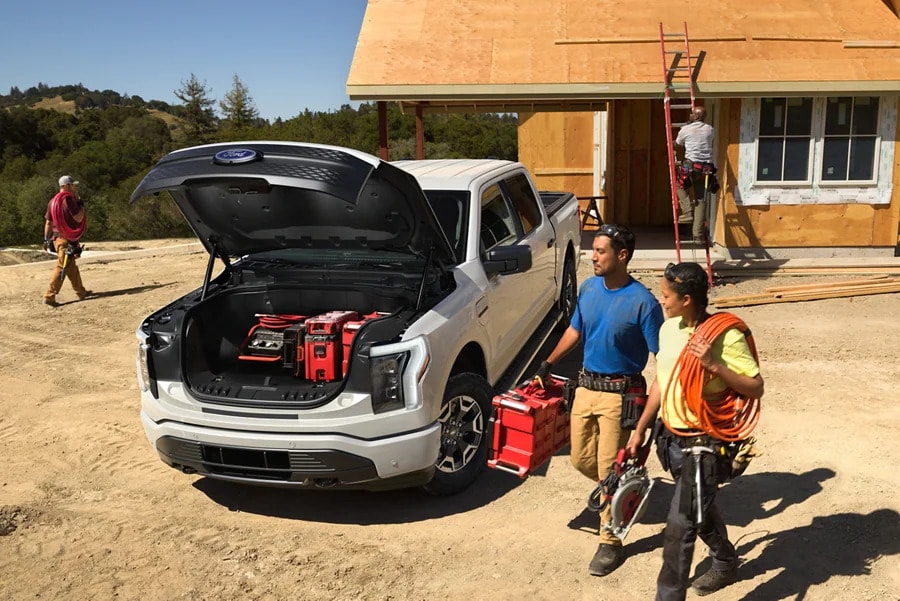 THE LARGEST FRONT TRUNK OF ANY ALL-ELECTRIC PICKUP
Water-resistant and drainable. 2.4kW of juice to four 120v outlets and two USB chargers. A payload capacity of up to 400-lbs. The Mega Power Frunk holds a lot of stuff.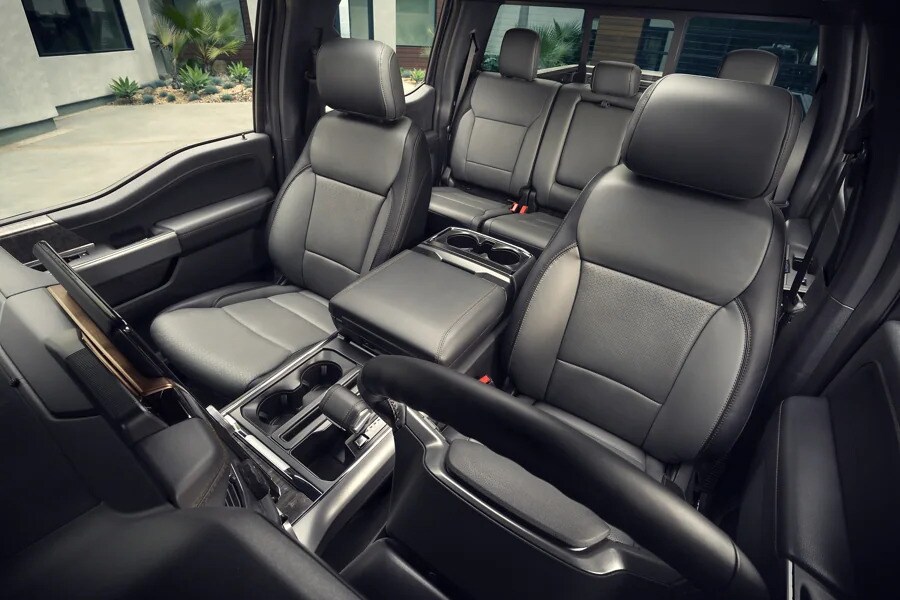 SEATS UP TO 5 PASSENGERS
Your turn to drive the car-pool? Heading out with friends? Taking the family on an adventure? With all its head, leg and shoulder room everyone will be relaxed and happy. Not to mention all the luggage room in the frunk.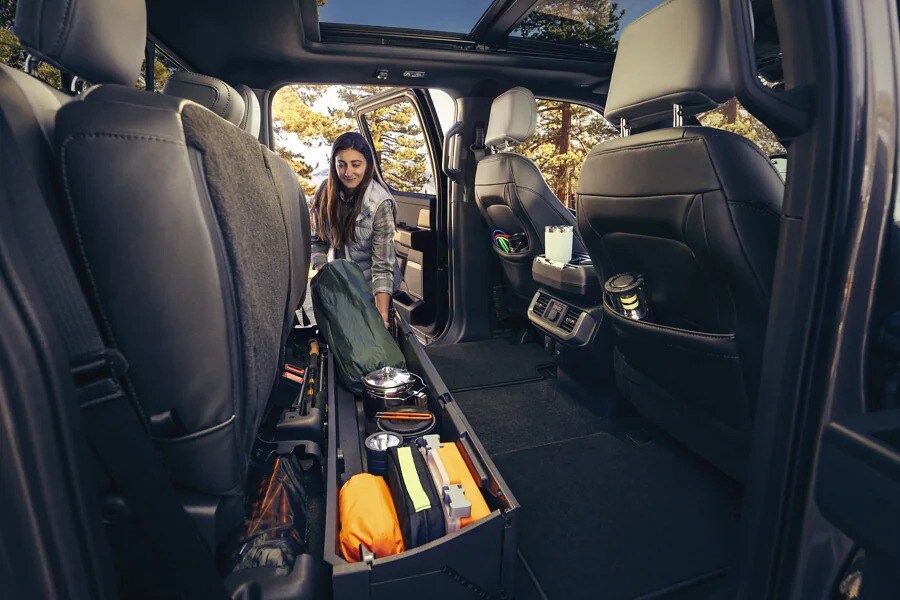 EASY ACCESS UNDER SEAT STORAGE
The rear seat flips up easily, allowing you to stow lots of gear conveniently and securely underneath. Dividers keep your cargo organized and in place.
ADVANCED TECH LIES AT THE HEART
But that means more than just the latest goodies. It's cloud-based connectivity, including software updates downloaded. It's disruptive innovation that results in breakthrough solutions.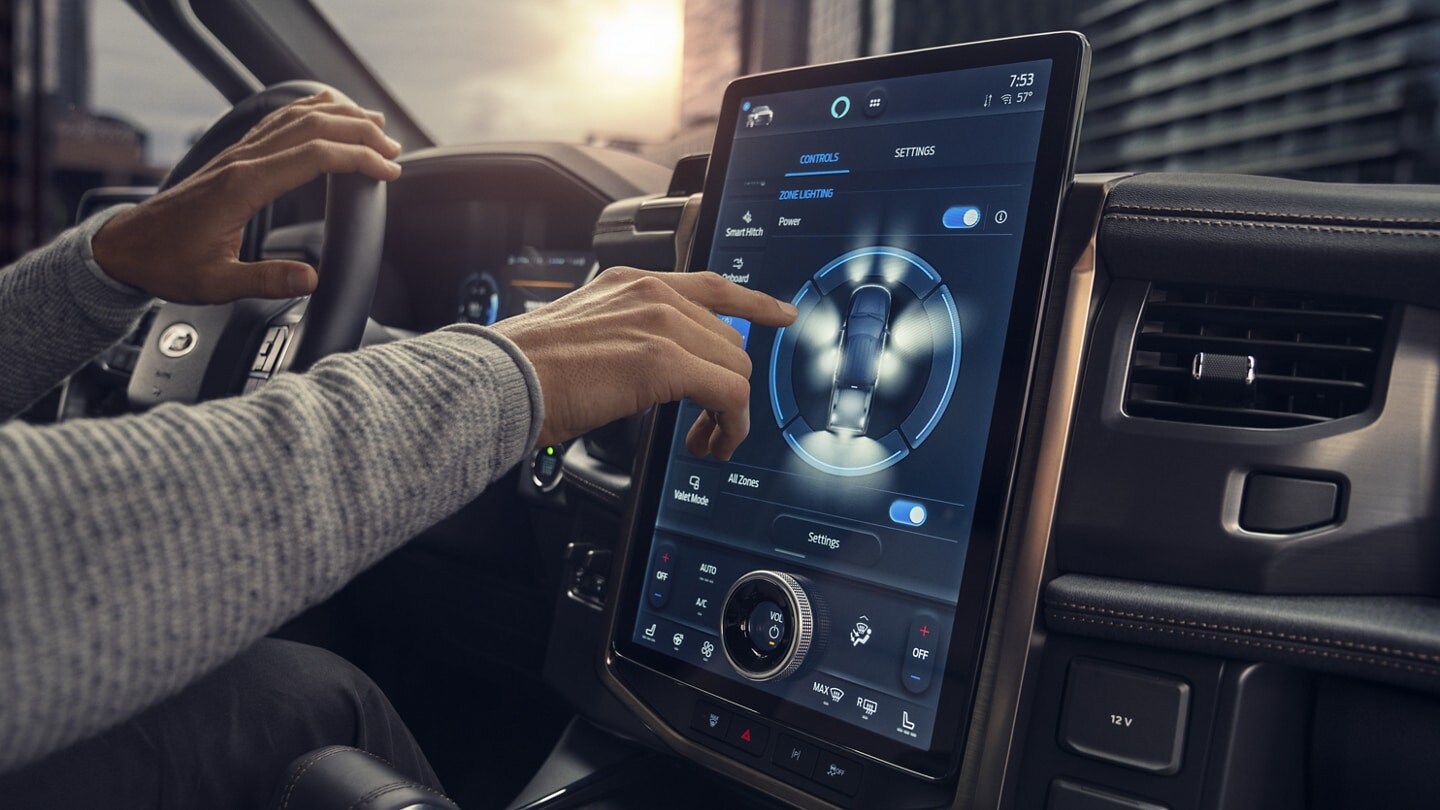 AVAILABLE ZONE LIGHTING
Set your seats, mirrors, radio, navigation, and driver-assist system settings the way you like. When you get back behind the wheel, Lightning® remembers at the touch of a button. You can also link a remote control and mobile device to your profile to recall it.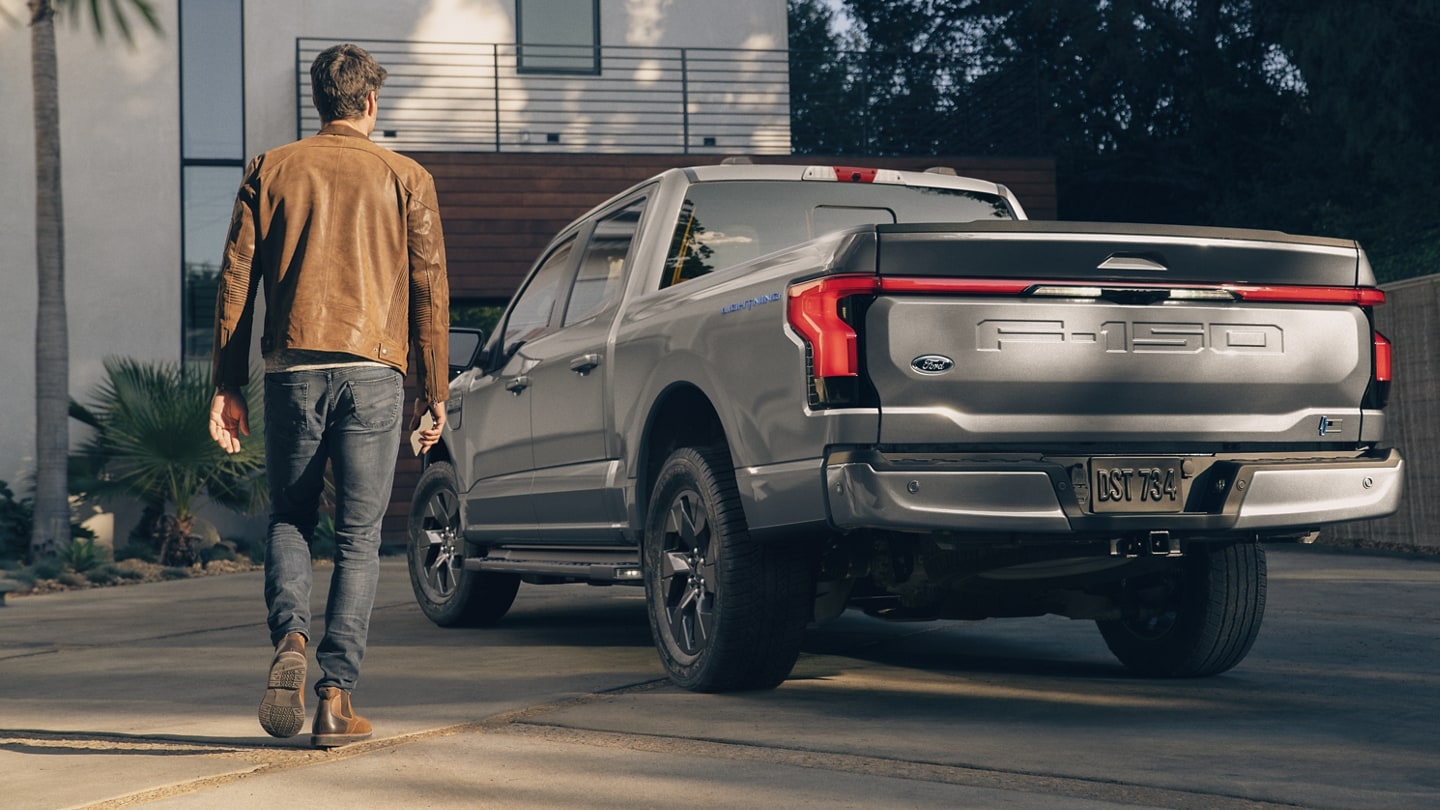 PHONE AS A KEY
With the available Phone as a Key feature, * you can access, start and drive your F-150 Lightning® without taking your phone out of your pocket or using a traditional key fob. Create up to 4 profiles per vehicle. Allows for remote start/stop, lock/unlock, global windows up/down. Frunk open/close, and many more features.
*Available on select vehicles. Requires feature activation. Not compatible with all mobile phones.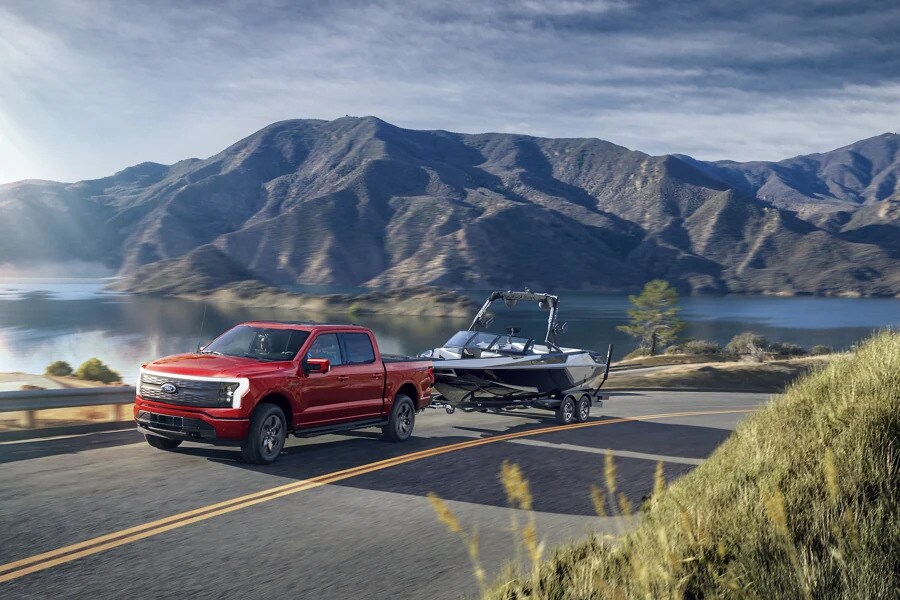 ADVANCED TOWING & HAULING TECHNOLOGY
Hooking up your trailer. Backing up. Weight distribution. F-150 Lightning® provides a variety of packages and features to help you tow and haul with confidence.